Water Activities in Los Cabos
Home of Land's End, the famous "El Arco" at the tip of Baja California SUR. Where the Pacific Ocean meets the Sea of Cortez providing ultra-lush, warm waters more than 9 months of the year. Cabo San Lucas, San Jose del Cabo and the surrounding region has a host of many water activities. This include SUP (Stand-up paddle boarding), Cabo boat tours, parasailing, flyboard, luxury yacht rentals and whale watching tours. Bringing the family on vacation? There are many water activities in Cabo to keep them busy as well. Likely your resort or villa will have a pool. If not there are many public beaches you can bask in the sun and play in the ocean at. You and the kids can also participate in the Cabo dolphin experience where they'll swim with the dolphins and have an amazing education. Or head on over to Medano beach where a quick water taxi ride will allow them to jump, swing and slide off the Tarzan boat. Or get them an exciting fun ride on a Cabo banana boat or visit the new Aqua World in downtown Cabo San Lucas.
---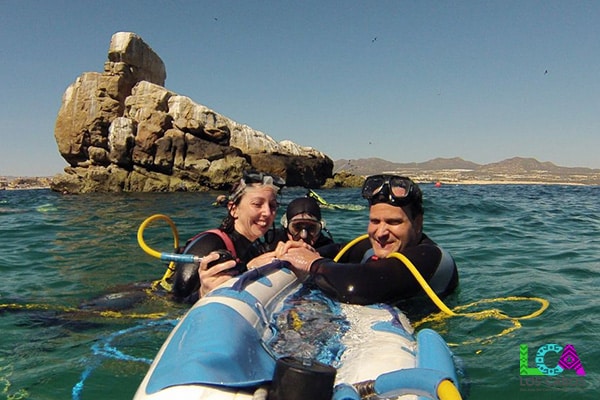 Snuba Underwater Experience
Cabo San Lucas, BCS, Mexico 23453
Tel: 624-130-6994 | Website
Experience the amazement of diving, SNUBA allows you to dive way below the surface of the water without having to carry any heavy gear. Instead, you breathe through an easy-to-use regulator attached to a floating air-supply tank that sits on the surface of the water. Wearing only a snorkel mask and flippers, you can glide effortlessly through an underwater world, spotting the array of animals that hide amongst the reef. SNUBA only requires a brief, 15-minute training session—then you're free to explore Cabo's underwater ecosystem and see tropical marine life closer than ever before. No certification or previous experience is necessary, even if you only have basic swimming skills. That makes this a great option for families and people of all ages—kids and grandparents included!
---
Parasailing in Cabo
Av. del Pescador, El Medano Ejidal
Cabo San Lucas, MX 23450
Tel:  624-144-3688 | Website
Take a trip over the sea and discover the majestic beauty of the "Land's End". From 180 feet in the air you'll have a birds eye view of the famous Arch, marina, the city including all the natural wildlife. All safety training, instructions and transport to and from the Sea of Cortez is included. Flight duration is about 10 minutes. You are allowed to take photos or videos, capture the iconic "El Arco"as a background to your new selfie. Landing? You will have the chance of dipping your feet in the ocean and tinker a few seconds, then back on the boat will be transported to the Medano Beach or the Marina. Children 10 years + must be accompanied by an adult.
---
Wave Runners
Medano Beach @ Pueblo Bonito
Cabo San Lucas, B.C.S.,
Tel: 624-143-2228 | Website
Drive a powerful Yamaha jet ski in the blue waters of the Sea of Cortez for 30 minutes to one hour! Race across the Pacific Ocean on new wave runners and  jetski's. Truly, this is one of the most awesome water activities in Cabo on Medano beach that will set your vacation apart. All wave runners are just like riding a motorcycle in the ocean. Super fast yet safe, and able to ride 1-3 people. All safety instruction and life jackets are provided as well. You will love the feeling of the adrenaline as you race on the waves in the Sea of Cortez! Schedule a rental 7 days a week, from 9 AM to 4 PM. Children under 13 require an adult companion.
---
JetPack or Cabo Flyboard
Av. Del Pescador, Local # 6
Medano Beach, Cabo San Lucas, BCS, 23450
Tel: 624-43.0147 | Website
Flyboarding is the coolest of all activities and tours in Los Cabos. Cabo is the perfect location to try this new water sport, the weather is always pleasant and Cabo Fly board has the most experienced instructors to help you fly like a superhero and dive like a dolphin. We provide a personalized experience offering 100% private lessons for you at Medano Beach, Cabo San Lucas. X-JetPack fits on your back sort of like a backpack, and it has two jet blasters, one on each side. You can hold onto the control bars on the front of the X-JetPack for stability while you are moving. When you turn it on, it produces enough force to let you fly above the water. It is a fun-filled experience that will surely make a memory that will last forever!
---
Sunset Cruise
Various providers in Los Cabos | Website
Set out upon the Sea of Cortex, the Pacific Ocean to witness a magical sunset over Los Cabos. From a private yacht in Cabo, to the many sunset cruises that operate you are sure to find one that matches your needs. Many include a appetizers and drink included or for purchase. Many also take a tour around the famous "El Arco" and along the Pacific to witness the luxury villas of the Pedregal dubbed the "Beverly Hills" of Cabo San Lucas. Tours last from 2-4 hours and many include entertainment and personalized, informative tours. Great for the whole family to enjoy and experience!