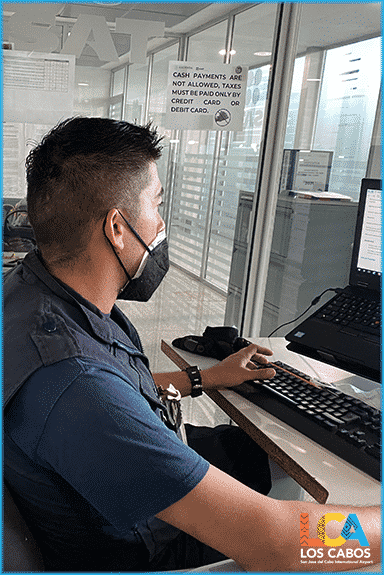 Customs in Cabo San Lucas
Customs and security are important at SJD Airport. The Mexican Customs Authorities at SJD Airport provide information (in Spanish) regarding imports to and exports from Mexico.
Restricted Hazardous Items
To ensure the safety of our customers and employees, SJD will no longer accept smart bags with non-removable lithium-ion batteries and they will not be permitted as carry-on or checked baggage flight.
Hoverboards or any lithium battery powered self-balancing personal transportation devices are also not permitted as both carry-on and checked baggage by all airlines.
Spare batteries for other devices, fuel cells, and e-cigarettes are permitted in carry-on baggage only. If your carry-on bag contains these items and is gate checked, they must be removed and carried in the cabin.
Prescription Drugs in Mexico
Please note that it's illegal to bring into Mexico many over-the-counter medicines commonly used in the United States. This can include inhalers, some allergy and sinus medications. Mexico strongly regulates products that contain stimulants (medicines that contain pseudoephedrine, such as Actifed, Sudafed, and Vicks inhalers) or codeine is prohibited.
Individuals are advised to carry a copy of the prescription or doctor's letter but it is still possible that you may be subject to arrest for arriving in Mexico with substances in these lists. A list of narcotics that are prohibited in Mexico can be found at http://www.aduanas-mexico.com.mx.
Prohibited & Permissible Items in Mexico
All articles acquired in Mexico must be declared
$800 exemption for gifts and personal articles, including one liter of alcoholic beverages per person over 21 every 30 days
Cuban cigars are prohibited
Cannabis products including CBD-Only products are not permitted in Mexico
CBP has a zero-tolerance policy on illegal drugs. Any type, in any amount, may result in serious fines, seizure of a vehicle, federal record and/or imprisonment.
Switchblade knives, sea turtle boots or any other articles of endangered species (i.e. spotted cats, coral, crocodile, elephant, etc) are prohibited.
Carrying cash or bearer negotiable instruments is legal. However, failing to declare it is a violation of Mexican Laws and punishable by law when the total amount exceeds $10,000 USD, and by imprisonment when it exceeds $30,000 USD
Duty-Free Allowance
The duty-free allowance is a tax exemption granted by the Mexican Government to a national or foreign passenger for certain merchandise they bring into Mexico.
During holiday periods –Easter, Summer, Christmas and New Year's, passengers may import up to $500.00 USD
Passengers entering Mexico by air or a maritime port may import up to $500.00 USD
Read more on our page about Duty-Free in Mexico
Firearms in Mexico
Firearms in Mexico are strictly prohibited. Importing weapons, ammunition, cartridges, explosive, and related chemical substances to Mexico requires the appropriate permits. Your failure to obtain a valid firearm permit may be deemed as an offense and may even be punishable by imprisonment.
Are Fireworks Allowed in Mexico?
No. The transportation of explosives including materials and ingredients to make explosives are not permitted in Los Cabos Airport. Fireworks and sparklers are flammable and are manufactured from explosive materials. They are considered hazardous and forbidden on any aircraft in checked baggage or carry-on bags. This applies to all varieties including, but not limited to aerial repeater fireworks, aerial shell fireworks, bottle rockets, chasers, firecrackers, flying spinners, fountains, ground spinners, missiles, parachute fireworks, poppers, Roman candles, skyrockets, smoke fireworks, snakes, snaps, sparklers, strobes, and colored wheels.
Security at SJD Los Cabos Airport
Los Cabos Airport has full-time security staff on the property 24 hours a day, 7 days a week 365 days a year (find Cabo Airport maps here). If you have an emergency please call 911. If you need general security assistance or questions please visit our page on Cabo Airport Security or call +52 624 146 5111.