Los Cabo Airport FAQ's
---
Is Los Cabos open since COVID-19?
Yes, Los Cabos is open and safe – be sure to check with your resort, villa or property manager to be aware of any considerations for COVID and testing accommodations for departure.
Do you need a COVID-19 test to enter Mexico?
NO, you are not required to have a test or be vaccinated to travel to Los Cabos, Mexico.
Our priority is to maintain the wellbeing of our passengers, associates and the communities in which we operate. Los Cabos Airport is currently applying preventive measures to be followed regarding COVID-19 alongside with Mexico's Health Department, the Federal Aviation Agency (AFAC) and the Airports Council International (ACI).
Do I need a passport/valid passport to return from Los Cabos to my country?
You will need to check with your airline as they have requirements to board and transport you. They will be guide you on restrictions, etc.
Is cannabis/marijuana or THC products legal in Los Cabos?
As of August 2021 cannabis products are still not legal to consume, purchase or carry. While there is talk of new legalizations in processes, laws have not yet been created.
Is Cabo Safe?
Despite historic media reports and news Los Cabos is safe and there are no US Department travel warnings for the Los Cabos region.
I've lost luggage / airline has delayed and/or lost my luggage – what do I do?
Please contact your airline by phone (available on their website) or via chat at their website for further assistance. If they transport you and your belongings they are responsible for them to get to you in Los Cabos.
What airlines fly into Cabo?
There are over two dozen that flies regularly into SJD Los Cabos Airport – please view our list of airlines that fly into SJD Airport.
What time should I arrive at Los Cabos Airport for my departing flight?
If flying within Mexico you should arrive no later than 2 hours before your departing time. If you are flying international (outside of Mexico to USA, Canada and beyond) you should arrive no later than 3 hours before your departing time. Please allow time for parking/shuttle transportation, airline check-in, obtaining a boarding pass and going through the security screening process, which includes the screening of your carry-on baggage.
Where are the airport terminal maps?
Cabo Airport terminal maps are located here. They include terminal 1 and terminal 2 arrivals and departures as well as fun illustrated overview maps.
Can you get back from Mexico without a passport?
Check with your airline on the policies they have in place to transport you as you will be transported by their services. US Citizens who are returning from Mexico require a passport, birth certificate, resident alien or a SENTRI card. You must prove that you are a legal resident in the United States of America, not a citizen, to get in and out of Mexico. U.S. citizens should be aware that a valid passport book is required to enter Mexico by air, and that those attempting to enter at an airport with a U.S. passport card only may be denied admission.
Does SJD Airport have Global Entry or Viajero Confiable?
Global Entry is for (returning from Mexico) entering the USA; so it will have no impact on your arrival intoLos Cabos (SJD Airport). Global Entry is a U.S. Customs and Border Protection (CBP) program that allows expedited clearance for pre-approved, low-risk travelers upon arrival in the United States. Members enter the United States through automatic kiosks at select airports. There are member countries that accept Global Entry, Dublin, Grand Bahama, Aruba, and Abu Dhabi have been verified as of Q1 2019. Currently kiosks are being replaced with Mexico's version of Global Entry called Viajero Confiable. If you are a GE holder you can apply for VC and do your interview at a GE enrollment center.
Does my minor child need a passport to travel to and from Cabo?
Yes, any person traveling into Mexico will need to have their country's legal passport for entry and departure.
Is face paint allowed at Los Cabos Airport?
No. Due to Mexican security needing to determine your identification any passenger with face paint will not be allowed to pass airport security checkpoints.
Can a minor travel alone to Mexico?
A parent or legal guardian departing Mexico with minor children should carry a notarized consent letter from the other parent if traveling separately. INM requires at least one parent to complete a SAM (Formato de Salida de Menores) for all minors departing Mexico with a third party. Travelers should contact the Mexican Embassy in Washington, D.C., the nearest Mexican consulate, or INM for more information.
Are personal golf clubs allowed to bring into Los Cabos?
Yes, you can bring in your own personal golf clubs for use while you are on vacation in Los Cabos. We highly recommend to use a travel golf bag to protect your equipment in transit.
Can  I bring a Vape in to SJD Airport?
No, all vaping products are illegal in Mexico.
Can I bring CBD oil, Hemp oil or cannabis oil through SJD Airport?
Please see our section and information regarding CBD, cannabis and marijuana at Los Cabos Airport.
What do I do if I lose my Mexican Tourist Visa?
If you have lost your tourist card, or if your tourist card has expired, you may be fined upon leaving Mexico. If you have lost your Mexican tourist card you can replace it at Terminal 2 of SJD Airport. There is a Mexican Customs office located at passenger drop-off at the southern area of ticketing.
Is there free WiFi at Cabo Airport?
Yes, there is low speed free wifi for passengers to enjoy at the Cabo Airport. There is also open WiFi inside the Cabo Airport VIP Lounge for their customers. Certain merchants such as Starbucks also provide free WiFi to their customers.
Can I bring firearms into Mexico if I am licensed and they are packaged in checked baggage?
No, and there are severe penalties for possessing firearms in Mexico. You must contact a Mexican Consulate in the United States before attempting to import weapons into Mexico or purchase any while in Mexico. Failure to do so will result in stiff fines or jail time.
What is the maximum amount of currency that I can bring into Mexico?
Currency restrictions for entry and departure are $10,000.
Is a tourist visa required to visit Mexico?
Yes if you are visiting for more than 180 days.
Can I bring alcohol to Mexico?
From the U.S., you are permitted to bring up to three liters of liquor or beer and six liters of wine per adult.
Can I bring prescription drugs back from Mexico?
In most countries (including the United States) a prescription from a Mexican doctor is no longer adequate to re-enter with pharmaceutical drugs. Many drug products not approved by the U.S. Food and Drug Administration will likely not be acceptable for importation.
Can I bring my pet into Mexico?
Yes- but there are restrictions for cats and dogs and even more for other animals. Please consult our page on Pets at Los Cabos Airport.
I have a service animal. Will it need to go through Mexican security once entering Los Cabos Airport?
Yes. You and your service animal will be screened by a walk-through metal detector. You will undergo a pat-down if you are not screened by the walk-through metal detector. If the metal detector alarms, you and your service animal will be required to undergo additional screening, including a pat-down.
I or a person in my travel party require special assistance at SJD Airport. How can I get the proper services?
Los Cabos Airport provides travelers with disabilities, medical conditions, and other special circumstances additional assistance during the security screening process. Please Contact us prior to traveling with questions about screening policies, procedures and what to expect at the security checkpoint.
Can I record or take pictures during the security screening process?
No. Filming or taking pictures is strictly prohibited and includes holding a recording device up to the face of a Los Cabos Airport security officer so that the officer is unable to see or move, refusing to assume the proper stance during screening, blocking others through the checkpoint or refusing to submit a recording device for screening including mobile phones, tablets, and video recorders.
How do I make a claim for a damaged baggage?
Please contact your airline for all inquiries in dealing with lost or damaged baggage.
Can I take a pre-approved pet through general security?
Yes. You will need to pet from the carrying case. Then place the animal carrier case through the X-ray machine. Please maintain full control of your pet with a leash and remember to remove the leash when carrying your pet through the metal detector. Animal carriers must undergo a visual or physical inspection.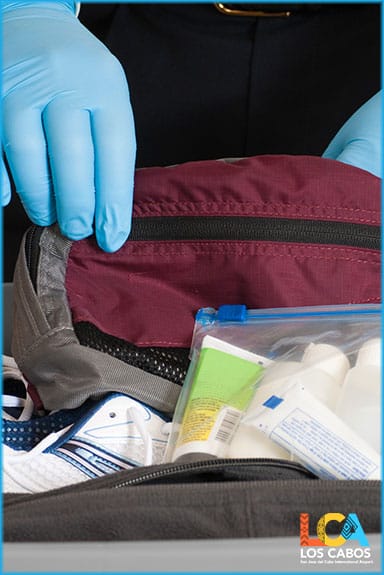 What are size restrictions for carry-on baggage?
Size dimensions at Los Cabos Airport for carry-on baggage vary by airline. Please contact your airline to ensure what can fit in the overhead bin or under the seat in front of you when traveling.
Can I take a CPAP or nebulizer through Mexican security?
Yes. A nebulizer, CPAP, BiPAP, and APAP must be removed from its carrying case and placed in X-ray screening. Facemasks and tubing may remain in the case. You may provide a clear plastic bag to place the device in the tray to pass through the X-ray.
I've lost something at Los Cabos Airport, how do I go about seeing if it was found?
If you've lost something at Los Cabos International Airport please contact us.  You must be able to describe the item, when it was lost, the color of the item, or any information identifying the item, to ensure it is reunited with its rightful owner. If you lost something on your flight please contact your airline.
What happens if I left my passport or personal identification at the security checkpoint in Los Cabos Airport?
We collect and personal identifications left in security. It is our goal to reunite passengers with all lost or unclaimed personal property, including personal identification items left behind at a checkpoint. Please contact us directly at +52 624 146 5111. If the ID is not claimed within 30 days, it is destroyed.