Cabo Airport Shuttle to La Paz, Mexico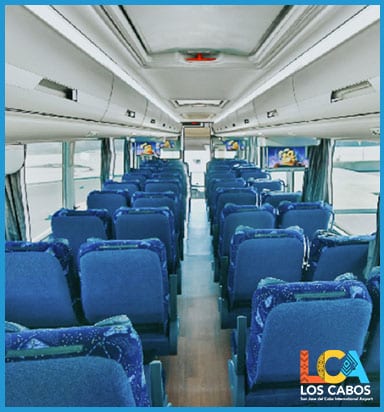 Are you looking to catch a public or private shuttle buss to La Paz from Los Cabos Airport? Getting from the Cabo airport and many La Paz Hotel's can be convenient and cost effective. There are many daily shuttles to La Paz but,  it's best to be flexible and allow extra time in your schedule. Here we list all the options for a Cabo Airport Shuttle to La Paz.
NOTE: We DO NOT sell bus or shared shuttles to Todos Santos, La Pax, La Ribera, Los Barriles or La Ventana. WE DO sell private transfers to these mentioned locations only.
Cabo Airport Bus Schedule to La Paz
Eco Baja Tours provides a shuttle service between La Paz and the SJD Cabo Cabo Airport. The cost is $545 MXN per person and takes 3 hours. Departures from La Paz Malecon terminal at 7AM and 9AM. Departures from San Jose Airport at 2:30PM and 5:00PM Buy tickets online at CheapCaboShuttle.com
Another helpful schedule is the bus schedule for the entire Baja California and SUR.
The Cheap Cabo Shuttle offers trips between La Paz and Cabo San Lucas via Todos Santos in Baja California SUR (Note: these schedules have been reduced and/or modified due to COVID-19). The schedules are as follows:
La Paz Shuttle to Cabo Airport
La Paz Malecon Shuttle to SJD Cabo Airport
06:30   09:00   09:30   10:30
08:15   10:45   11:15   12:00
10:30   13:00   13:30   14:00
12:30   15:00   15:30   16:00
17:30   20:00   20:45
Cabo Airport Shuttle to La Paz
San Jose del Cabo SJD Cabo Airport Shuttle Bus La Paz Malecon
08:30   09:15   11:45
11:30   12:15   14:45
13:30   14:15   16:45
15:30   16:15   18:45
17:30   18:15   20:45
Fares for Shuttle to Lap Paz
From La Paz to CSL $370 MXN per person
San Jose del Cabo $370 MXN per person
To Cabo Airport is $545 MXN per person
From San Jose del Cabo or Cabo San Lucas to La Paz the price is $370 MXN per person
Southbound East Cape Buses leave terminal on the Malecon at: 5:45AM, 7:30AM, 9:30, 11:30am, 1:30PM, 3:45PM, 6:00PM stopping at:
San Pedro, El Triunfo $49 MXN per person
San Bartolo ,San Antonio $58 MXN per person
Los Barriles $90 MXN per person
Buena Vista $91 MXN per person
San Jose del Cabo SJD Airport $148 MXN per person
The entire trip from La Paz to San Jose del Cabo takes 3 hrs.
Northbound Buses from La Paz to Loreto and San Ignacio
The northbound buses leave from La Paz Malecon at 07:00, 09:00, 12:00, 13:00, 14:00, 16:00, 20:00 and 21:00
Loreto costs $800 MXN per person and  is 5 hours
San Ignacio costs $950 MXN per person and is 10 hours