Cabo Airport Shuttle to La Paz, Mexico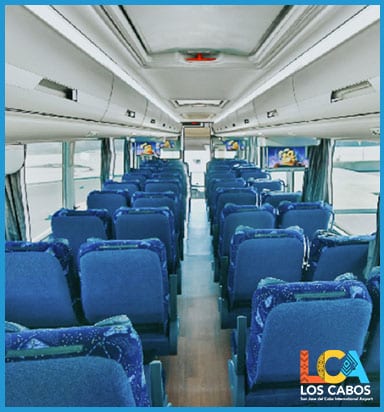 The shuttle bus to La Paz from Los Cabos Airport is now back up and running in 2023. The shuttle operates daily to/from La Paz and is popular and limited. It is advised to book in advance. You can book shuttle to La Paz here.
Getting from the Cabo airport to La Paz Downtown can be convenient and cost effective. Yes, there are also shared shuttles to Todos Santos, and Los Barriles.
The cost is $70 USD per person, each way and takes 3+ hours.
Select SJD Airport in dropdown then, La Paz Downtown as destination
Enter date(s) and select one-way or round trip
Fill in your flight details, traveling cell phone number and complete the secure online payment
Reservation is confirmed by email within 24 hours (if same-day someone will email/call you during business hours (7 AM – 9 PM)  **All shuttle times of departure and selection of departure time are subject to availability and may be cancelled and refunded with short notice.
You'll get an email with details on where to meet your shuttle on arrival/departure and the time of transfer and where to meet and check-in at the Cabo Airport or, at the bus terminal in La Paz.
Representative will be waiting for you outside the terminal under an assigned umbrella. They will have your name on the list and assigned a corresponding shuttle. You'll be escorted to your transport.
SJD Cabo Airport Shuttle to La Paz bus station
12:30, 1:30, 2:30 PM, 3:30 PM, 4:30 PM & 5:30 PM *(Subject to availability)
From La Paz bus terminal to SJD
7 AM, 8 AM, 9 AM & 11 AM *(Subject to availability)
Another helpful schedule is the bus schedule for Baja California SUR. The Cheap La Paz Shuttle offers trips between La Paz and Cabo San Lucas via Todos Santos in Baja California Sur.
Northbound Buses from La Paz to Loreto and San Ignacio
The northbound buses leave from La Paz Malecon at 07:00, 09:00, 12:00, 13:00, 14:00, 16:00, 20:00 and 21:00 (Subject to availability – Please confirm directly a the downtown bus station.)
Loreto costs $900 MXN per person and  is 5 hours
San Ignacio costs $1050 MXN per person and is 10 hours