Pet Travel at Los Cabos Airport
For information about bringing pets into Mexico, you may wish to contact the nearest Mexican Consulate, or the "Dirección General de Inspección Fitozoosanitaria" in Mexico City: Tel. 011-52-55-5571-3124.
Every airline has rules about taking pets when you travel to Los Cabos.  (and how many pets they will transport per passenger or family group). Please check your airline for details and policies about traveling with pets into Mexico.
Bringing Your Pets to Mexico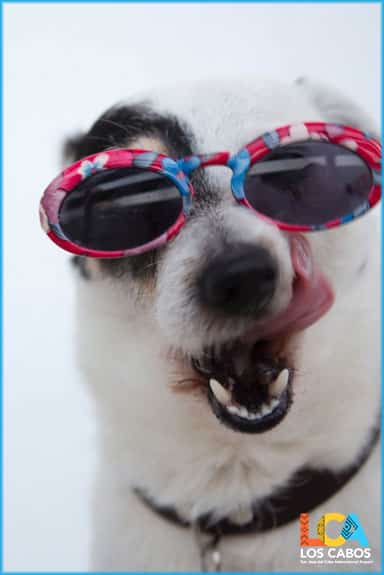 Read information from United State on processes for exportation of animals to Mexico and other countries. In order to bring your pet into Mexico, you will need to present the following upon arrival at SJD San Jose del´Cabo International Airport / Los Cabos Airport.
Health certificates
Vaccines against rabies and distemper administered at least 15 days before the arrival of your pet in Mexico
USDA accredited veterinarian signature
APHIS veterinary medical officer signature
All documents in original ink
Please take note when bringing pets to Cabo:
Handwritten documents will be rejected
Documents must not be containing any abbreviations
Mexico will reject VS form 7001 health certificates if they are not signed and sealed by a veterinary services veterinarian
Please check with your airline for specific requirements and regulations
Accepted Live Animals at Los Cabos Airport
Amphibians
Crustaceans
Fish
Insects
Mollusks
Reptiles (non-venomous only)
Worms
Prohibited Live Animals at Los Cabos Airport
Any poisonous, venomous or threatening animal
Any and all threatened or endangered species
Any animal on recognized endangered lists
Arachnids
Birds
Crocodiles
Snakes venomous and non-venomous
Chupacabras
In order to bring a pet (dogs and cats) into Mexico, the following documents must be presented at the Office of Animal Health Inspection (OISA) at international airports and ports of entry into Mexico :
If the pet is less than tree months, a "Certificate of Good Health" issued by an official authority or by a licensed veterinarian provided that his or her signature is approved in the United Kingdom and issued not more than five days before the animal enters Mexico

If the pet is older than three moths, the "Certificate of Good Health" must also states immunizations against rabies, distemper, hepatitis and leptospirosis. Any immunization must been administered at least 15 days before pet's arrival to Mexico, but not more than one year.
At the OISA your pet will be physically checked and that office will determine if the animal is allowed immediate entry or must remain in custody for an additional inspection. In the first case, it will be issued a zoo-sanitary importation certificate, which must be carry when leaving Mexico. In the second case, If the above said authorities retain the animal, they should also give you a voucher.
If your pet is coming from a country where foot-and-month disease or risk of that disease exists, it must receive a prophylactic treatment.
Nota Bene
When you intend to introduce into Mexico three or more pets or any other animal species , you must fulfill the requirements established on the Zoo-sanitary Requirements Page (Hoja de Requisitos Zoosanitarios).
Animals, plants and their products may enter Mexico depending on their country of origin and country's sanitary conditions. These procedures are to be strictly adhered to in order to prevent plagues and high risk diseases from spreading in Mexico.
Further information can be obtained on SENASICA.
Other Animals for Import or Export
Those seeking permission for the import of other animals/birds/reptiles should contact your local Mexican Consulate.
Mexico City (Principal Office)
Paseo de la Reforma 305
Colonia Cuahtemoc, Mexico D.F.
C.P. 06500
Telephone: +52 55 5080-2000
Website: www.usembassy-mexico.gov
If you're flying to Mexico it is advised to contact your airline to ask about its policies for transportation of animals that are not cats or dogs.
Looking for info on Customs & Security?