Baggage at Cabo Airport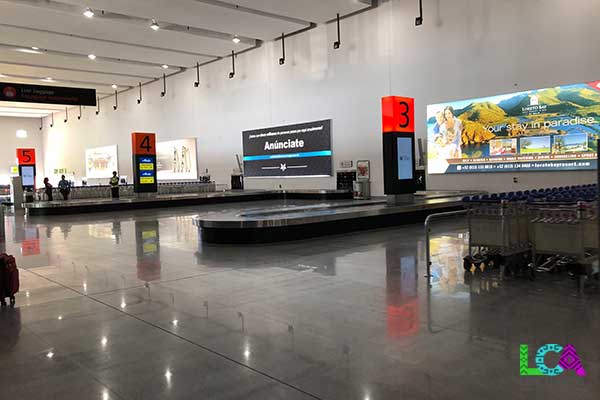 Passengers may bring baggage at SJD Airport and transport, exempt from duty, new or used merchandises that make up their personal baggage, as well as duty-free allowance merchandises. Note that all baggage at SJD Airport is subject to inspection by the Mexican Customs Authorities (detailed information in Spanish).
Click here for information on Cargo at SJD Airport.
Goods considered as personal baggage: such as clothes –including one bride trousseau, footwear and personal toiletries and beauty products, as long as they are appropriate for the duration of the trip; as well as baby travel, hygiene, and fun accessories, such as car seat, port-a-crib, baby carriage, baby walker, etc.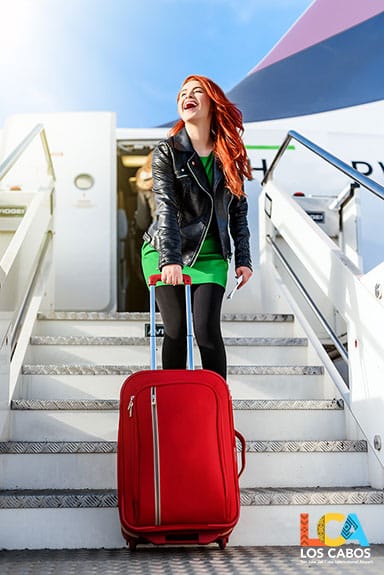 Included accessories for each person: two cameras or video cameras, including 12 rolls of film or videocassettes; photographic material; two cellular phones, one portable typewriter; one electronic personal organizer; one laptop, notebook, omnibook or similar; one portable photocopier or printer; one portable recorder and one projector, including accessories; two personal sport equipment, four fishing rods, three surfboards or windsurfing boards and their accessories, trophies or recognitions that can be normally transported by the passenger; one running machine and one exercise bike; one portable sound recorder or player; one digital sound player or portable CD player and one portable DVD player, as well as a set of portable speakers, and their accessories; five laser disks, 10 DVDs, 30 CDs or magnetic tapes, for sound playing, three storage software and five storage devices for any electronic equipment; books, magazines, and printed documents; five toys, including collection toys, and one video games console, as well as five video games; one blood pressure self-monitoring device and one blood glucose self-monitoring device, or a mixed device, and their reagents, as well as personal medicine (in the event of psychotropic substances, passenger must show prescription); one binoculars and one telescope; two musical instruments and their accessories; one tent and other camping articles; one set of hand tools and the suitcase, which may include one drill, tweezers, wrenches, dies, screwdrivers, cables, etc.
Passengers older than 18 years may transport up to 20 cigarette packets, 25 cigars or 200 grams of tobacco, as well as up to 3 liters of alcoholic drinks and six liters of wine. Cannabis or Marijuana is not allowed at this time in Mexico even if you have a medical card for your state or country of origin.


Be careful about what you bring in to Mexico – certain countries of origin for alcohol have extremely high taxes for importing. Please look at the link below for SAGARPA website for information on Mexico importation of goods.

Older people and disabled persons may transport devices that compensate for or reduce their limitations, such as walkers, wheelchairs, crutches, walking sticks, etc. Passengers may transport up to two dogs or cats, as well as the accessories necessary for pet transportation and cleaning, showing the pertinent animal importing permit issued by SAGARPA.
Damaged or Lost Baggage
If your property is damaged, the property is missing or lost completely during the screening process, you may file a claim with Mexican security. If your property is lost or damaged during transport to the plane or in baggage claim, please contact your airline. If you have other questions contact Cabo Airport.