SJD Los Cabos Airport Arrivals
AAL

2651
DFW
SJD
12/3
1:32 P

12/3, 1:32 pm

-20 mins
12/3
4:12 P

12/3, 4:12 pm

En Route / On Time

VIV

7055
QRO
SJD
12/3
3:28 P

12/3, 3:28 pm

0 mins
12/3
4:39 P

12/3, 4:39 pm

En Route / On Time

VIV

3156
GDL
SJD
12/3
3:43 P

12/3, 3:43 pm

219 mins
12/3
2:59 P

12/3, 2:59 pm

En Route / Delayed

VOI

248
BJX
SJD
12/3
3:44 P

12/3, 3:44 pm

68 mins
12/3
4:43 P

12/3, 4:43 pm

En Route / On Time

AMX

384
MEX
SJD
12/3
3:35 P

12/3, 3:35 pm

-22 mins
12/3
5:30 P

12/3, 5:30 pm

En Route / On Time

SWG

5771
YYZ
SJD
12/3
1:03 P

12/3, 1:03 pm

32 mins
12/3
5:47 P

12/3, 5:47 pm

En Route / On Time

VOI

506
TIJ
SJD
12/3
4:31 P

12/3, 4:31 pm

0 mins
12/3
6:17 P

12/3, 6:17 pm

Scheduled

VOI

338
MEX
SJD
12/3
5:20 P

12/3, 5:20 pm

-11 mins
12/3
7:01 P

12/3, 7:01 pm

Scheduled

VOI

387
MXL
SJD
12/3
5:22 P

12/3, 5:22 pm

0 mins
12/3
7:03 P

12/3, 7:03 pm

Scheduled

VOI

586
GDL
SJD
12/3
6:08 P

12/3, 6:08 pm

-11 mins
12/3
7:13 P

12/3, 7:13 pm

Scheduled

VIV

4336
MTY
SJD
12/3
6:20 P

12/3, 6:20 pm

0 mins
12/3
8:00 P

12/3, 8:00 pm

Scheduled

AMX

388
MEX
SJD
12/3
7:30 P

12/3, 7:30 pm

1 mins
12/3
9:09 P

12/3, 9:09 pm

Scheduled

VIV

3152
GDL
SJD
12/4
5:25 A

12/4, 5:25 am

1 mins
12/4
6:30 A

12/4, 6:30 am

Scheduled
Los Cabos Airport Terminal 1 Arrivals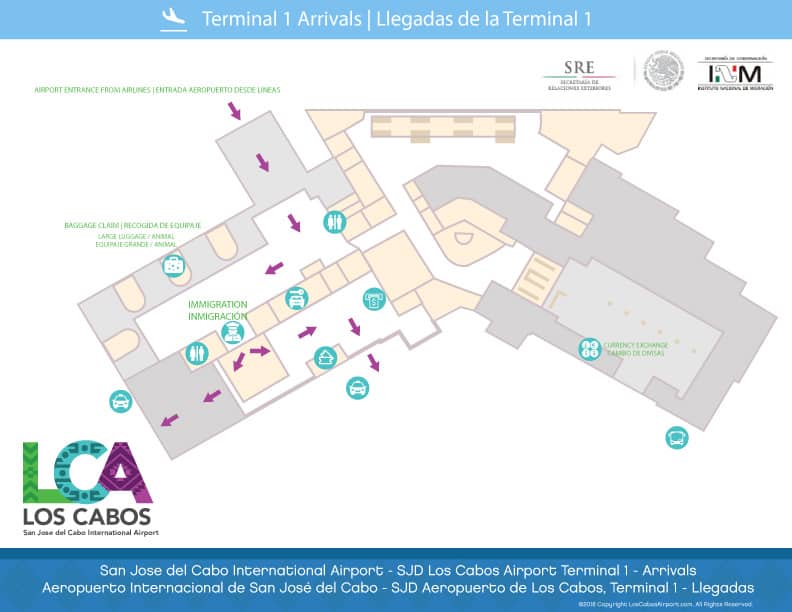 Arriving at Terminal 1 of Los Cabos International Airport is mainly reserved for Domestic Flights from within Mexico. Terminal 1 is a very simple airport and was recently refinished with complete new terminals, restaurants, Starbucks and baggage claim. Once you arrive at Terminal 1 you will leave your airplane and walk into the airport from the tarmac. Upon entry to Terminal 1 baggage claim, you can use restrooms, speak to rental car agencies, arrange transportation or exit the airport on to your destination.
Los Cabos Airport Terminal 2 Arrivals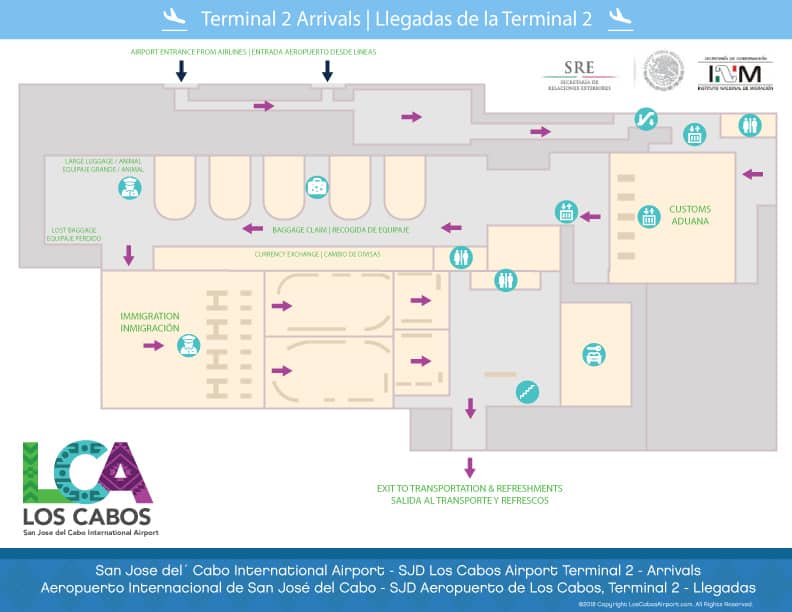 The Los Cabos Airport (SJD) is located in San Jose del Cabo. Upon arrival, your airline should have provided you a Mexican Tourist Card and a Mexico Customs Form (one per family). This is required for customs and you are required to pay any duties on any items that are not considered duty-free. (download the Los Cabos Airport Terminal 2 Map JPG | PDF)
*Note: There is No Smoking or Vaping allowed on the airport tarmac or in Terminal 2. There is also no photography or video allowed.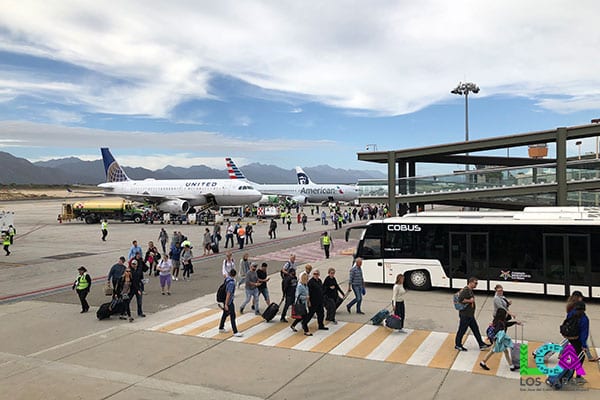 Once you deplane, you will move along the airport tarmac to the entry of the Los Cabos Airport Terminal 2 for International flights. If your plane landed far from the airport entrance be prepared to take a free shuttle bus from the tarmac to airport customs.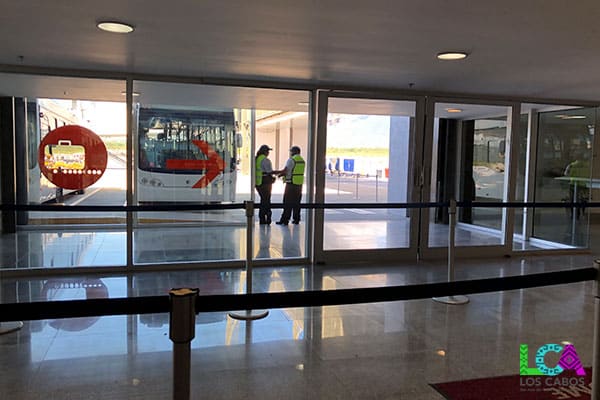 Upon entrance, if you do not have a tourist card or customs form you can acquire one. There are full bathrooms with handicap access here. Continue down a hall and take an escalator, stairs or elevator for handicapped down to Mexican Customs.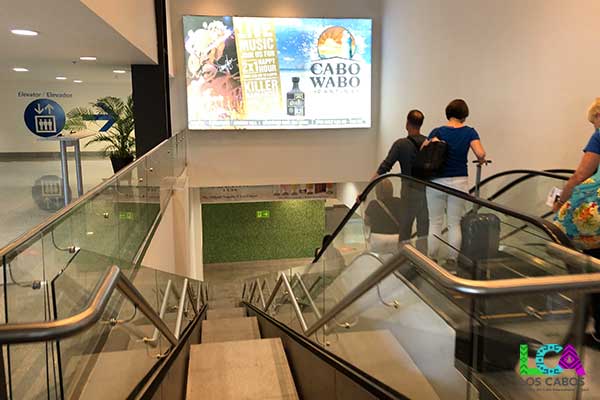 Upon approaching customs please have your Mexican Tourist Card(s) ready along with your passport for agents to inspect. Forma Migratoria Múltiple is an "admission document" issued to vacationing visitors of certain nationalities. Although the tourist card (FMM) is also popularly known as a tourist "Visa," it is not officially a Visa. The tourist card application is available online if you want to procure before traveling to Mexico. The tourist card (FMM) may be issued for up to 180 days and must be issued per person including all children. Please place your FMM card in a safe place as you will need this to leave Mexico. If you lose it you will need to replace your FMM Visa card to exit Mexico for a penalty fee. In this Customs receiving area, if you are Mexican National resident or official nation delegate you can enter special customs line.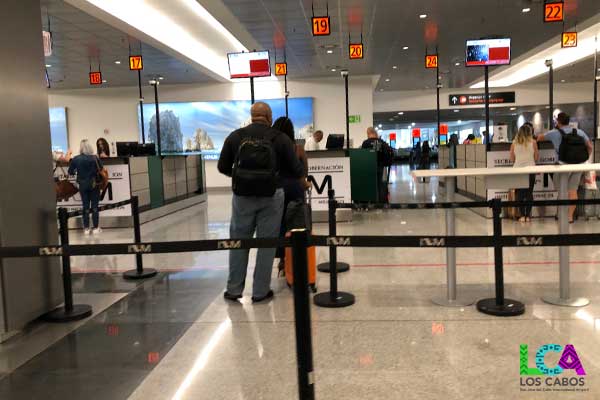 Once you have passed customs, had a visa stamped for the entry you can now retrieve luggage. There are 5 baggage returns and all are subject to further inspection by authorities. In the baggage area, there are free luggage carts. If you have oversized luggage, cargo or live animals please proceed to the end baggage station. If there are questions or problems with luggage retrieval please visit the desk at the far end of the baggage area where airline representatives from each carrier are there to help you.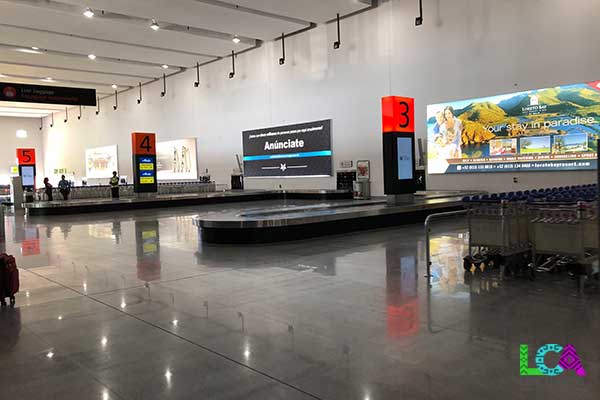 Please make sure you take only your luggage since many look alike. In this baggage claim area, you may also make currency exchange from US Dollars to Mexican Pesos. You will need your passport for all currency transactions. There are also bathrooms with full handicap access in the baggage claim area.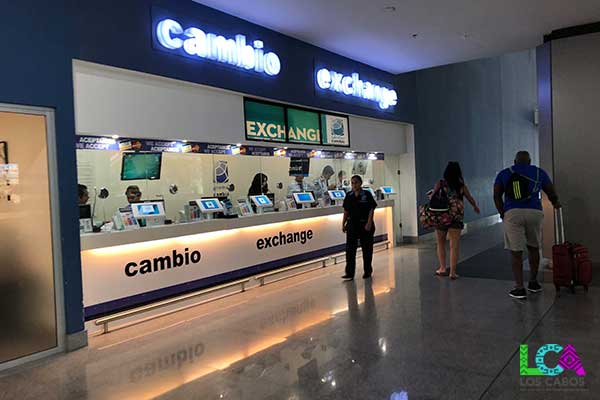 Upon gathering luggage you'll proceed through customs inspections. Here you will be asked to push a button on a traffic signal. This process of selection is random- green light means you go on, red means your belongings will be further scanned and checked.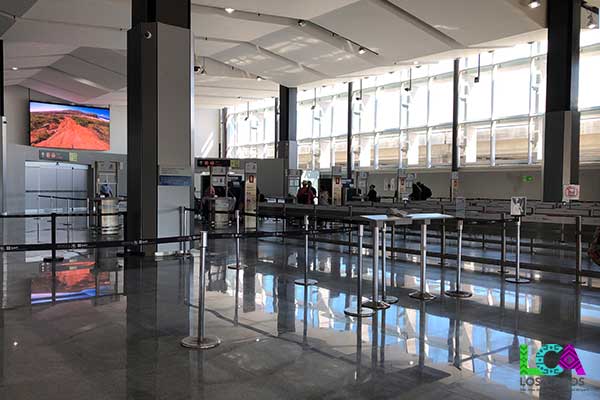 Upon successful review of your Mexican Immigration Form and passing through immigration please proceed ours to next area – Time Share sales, Cabo Activities, Taxis and, Rental Car offers.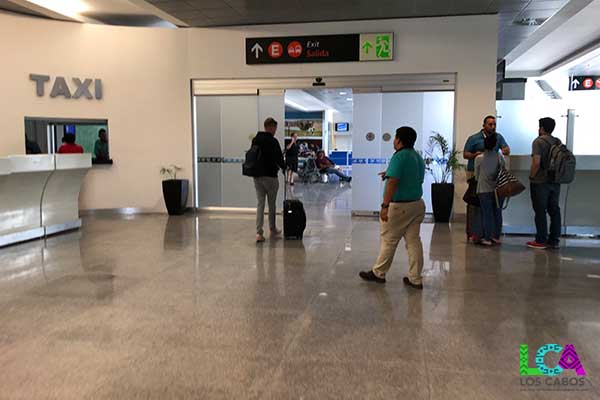 Upon completion of airport arrivals please proceed to exit, once clearing the solicitation room passengers must turn right and exit on to the transportation area.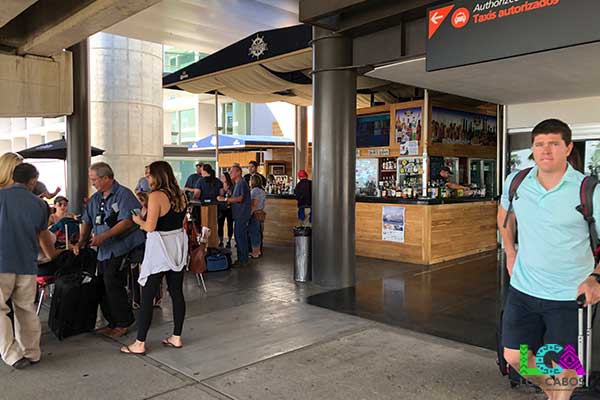 Please continue outside the airport to meet other companions or, take a break at one of the two bars or restaurants. If you have arranged transportation please proceed across the street to one of the awnings to greet your drivers and vehicles. If you need a taxi to your location one can be arraigned at the curbside here. You have now been liberated from Los Cabos Airport Terminal 2.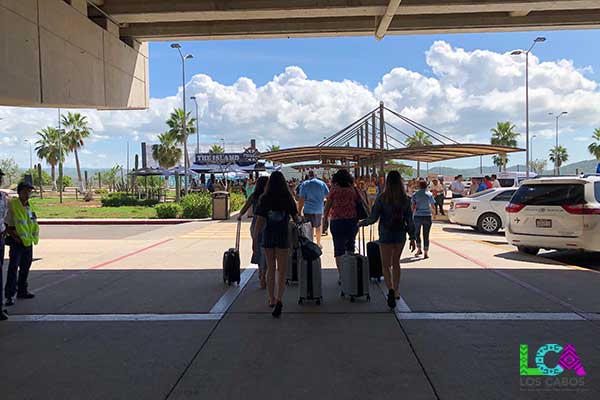 Note: LCA is not responsible for damages or losses derived, directly or indirectly, from the use of flight information on LosCabosAirport.com. Flight information is updated based on the operational data and the estimates provided by the airlines and third-party sources. Please check with your airline to confirm all information. Current visa and immigration information may have changed – please consult with Mexican Government for clarifications.