SJD Los Cabos Airport Departures
VIV

1211
SJD
MEX
9/27
10:05 A

9/27, 10:05 am

0 mins
9/27
12:00 P

9/27, 12:00 pm

Scheduled

AAL

1304
SJD
DFW
9/27
10:29 A

9/27, 10:29 am

0 mins
9/27
1:00 P

9/27, 1:00 pm

Scheduled

AMX

381
SJD
MEX
9/27
10:50 A

9/27, 10:50 am

-3 mins
9/27
12:44 P

9/27, 12:44 pm

Scheduled

SWA

3007
SJD
HOU
9/27
10:50 A

9/27, 10:50 am

0 mins
9/27
1:00 P

9/27, 1:00 pm

Scheduled

VOI

317
SJD
QRO
9/27
10:56 A

9/27, 10:56 am

0 mins
9/27
12:20 P

9/27, 12:20 pm

Scheduled

VIV

3155
SJD
GDL
9/27
11:05 A

9/27, 11:05 am

0 mins
9/27
12:15 P

9/27, 12:15 pm

Scheduled

VOI

451
SJD
TIJ
9/27
11:41 A

9/27, 11:41 am

0 mins
9/27
1:26 P

9/27, 1:26 pm

Cancelled

ASA

1447
SJD
LAX
9/27
11:40 A

9/27, 11:40 am

13 mins
9/27
1:51 P

9/27, 1:51 pm

Scheduled

UAL

2103
SJD
IAH
9/27
12:04 P

9/27, 12:04 pm

-7 mins
9/27
2:10 P

9/27, 2:10 pm

Scheduled

DAL

1848
SJD
ATL
9/27
12:10 P

9/27, 12:10 pm

-10 mins
9/27
3:38 P

9/27, 3:38 pm

Scheduled

AAL

2667
SJD
DFW
9/27
12:17 P

9/27, 12:17 pm

0 mins
9/27
2:48 P

9/27, 2:48 pm

Scheduled

SWA

1922
SJD
PHX
9/27
12:25 P

9/27, 12:25 pm

10 mins
9/27
2:15 P

9/27, 2:15 pm

Scheduled

DAL

1876
SJD
LAX
9/27
12:40 P

9/27, 12:40 pm

-11 mins
9/27
2:49 P

9/27, 2:49 pm

Scheduled

UAL

547
SJD
LAX
9/27
12:35 P

9/27, 12:35 pm

-3 mins
9/27
2:45 P

9/27, 2:45 pm

Scheduled

SWA

881
SJD
HOU
9/27
12:50 P

9/27, 12:50 pm

0 mins
9/27
3:00 P

9/27, 3:00 pm

Scheduled
Los Cabos Airport Terminal 2 Departures
Flights Departing from Cabo San Lucas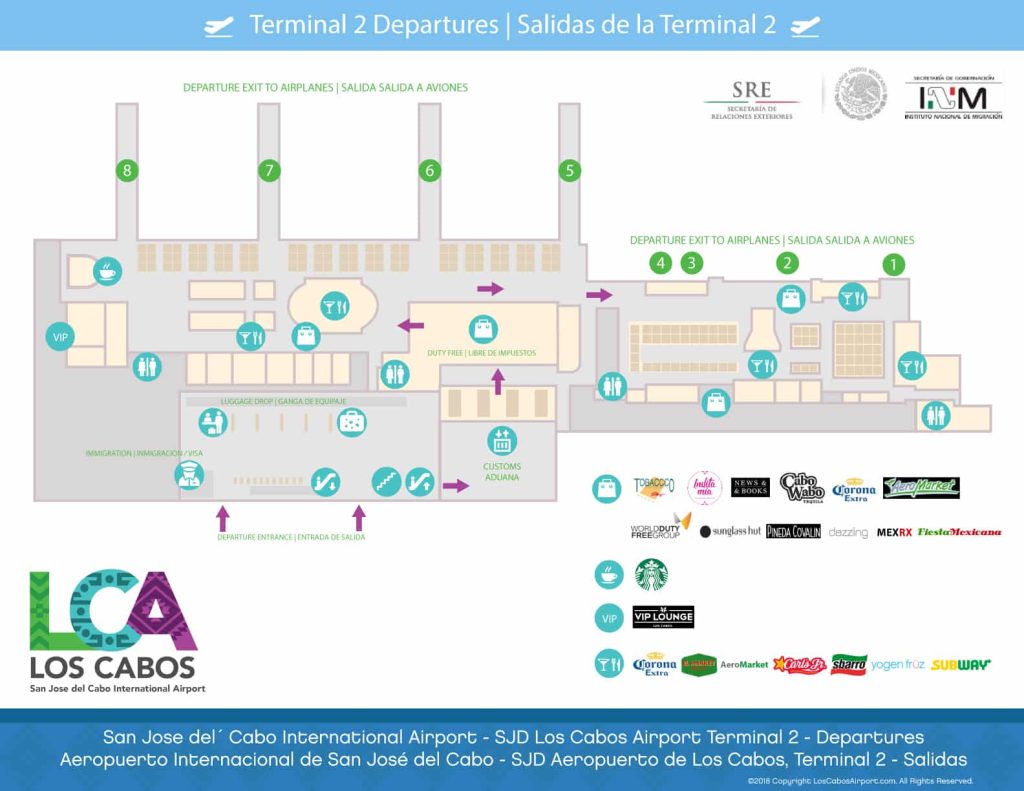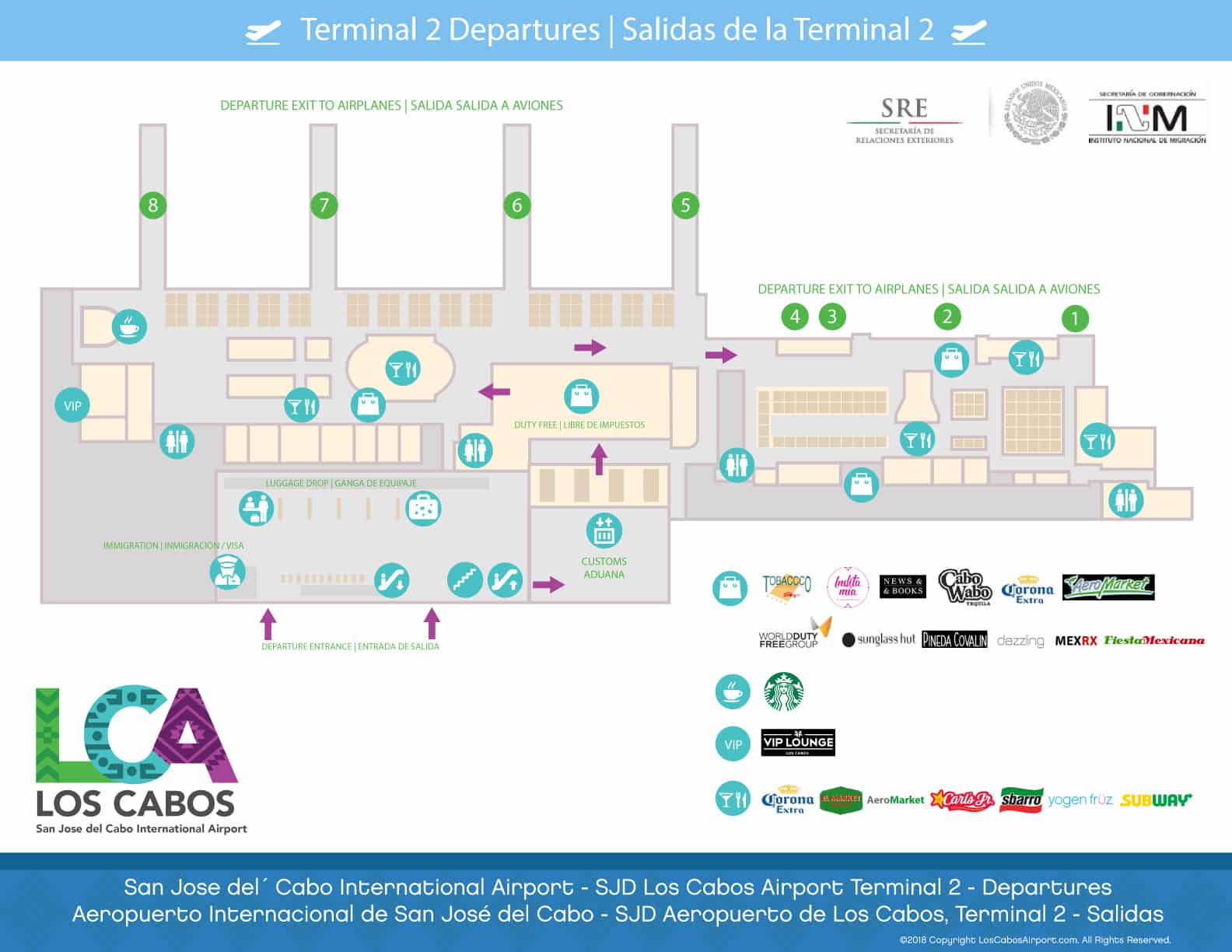 Los Cabos Airport (SJD) is located in San Jose del Cabo. Upon arriving at the airport it is important that you know your departure time and terminal. If you are departing on an international flight, you are likely departing at Terminal 2 and will need to arrive 3 hours before departure time. If you are on a national flight within Mexico you will be at Terminal 1 and need to arrive 2 hours before departure.
*Note: Smoking or Vaping is prohibited at SJD airport or in Terminal 2. There is also no photography or video allowed.
If you are dropping off and delivering people to the airport there are parking accommodations for you on the following Los Cabos Airport Map for parking. The front of Terminal 2 is for quick passenger drop-off only and any cars left unattended will be towed immediately.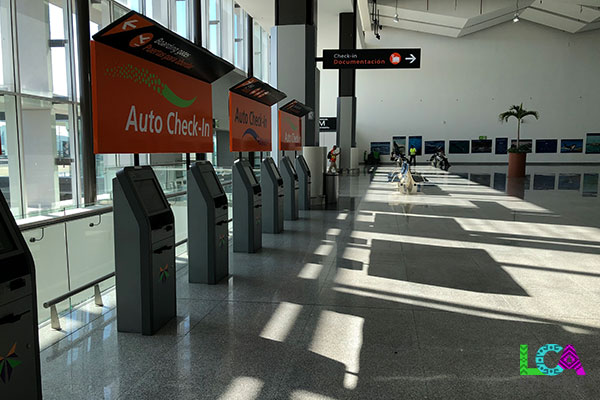 There will be official Los Cabos Airport staff outside that can assist you with your luggage if needed. If you only need to print your boarding pass there are 15 kiosks that serve all airlines and Airport staff to assist with any questions. You will need your Mexican Visa to present at check-in. If it is lost you can go to the Mexican Immigration office located at the south-front of this area.
All airlines have representatives to assist with check-in, luggage, and other travel questions. At this time you can also request handicap assistance if needed. Once you have your tickets proceed upstairs via the escalator or elevator to airport security for luggage and personal security check.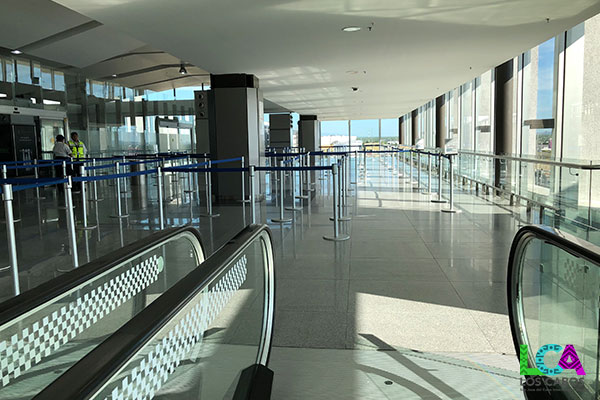 Los Cabos Airport security will verify the passport and airline ticket of each person in your party including children – please have these documents ready. Mexico's Customs is like the United States TSA / Department of Homeland Security and you and your personal belongings are subject to inspection. Similar rules and exclusions on what you can and cannot bring through security can be found HERE. [link]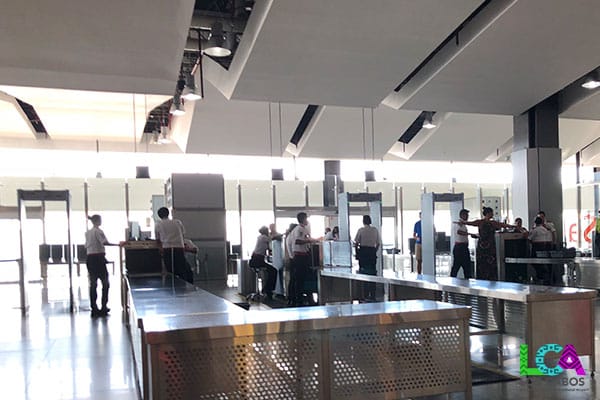 Once through security, you can proceed to the entrance of the departing airline gates through the Los Cabos Duty-Free shop. Once through there are many stores for gifts, different types of food, drinks, restaurants, pharmacies, and bathrooms.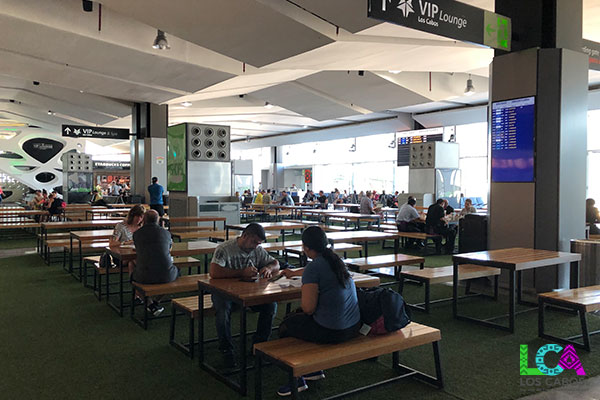 Terminal 2 of Los Cabos Airport was completely refurbished after the Category 4 Hurricane Odile in 2014. There are new seating options and picnic tables to enjoy a meal from one of our wonderful restaurants while you wait for your plane to depart home.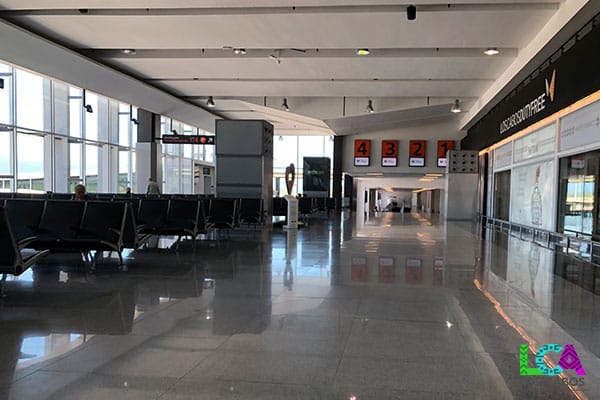 Finding your departure gate is very simple with our bright orange signage. The main are you entered after security will have access to gates 8-5 and, at the north end lower second-level will be gate's 4-1.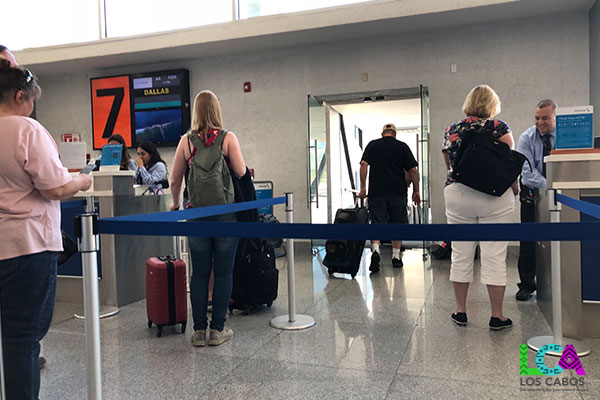 All airlines at Los Cabos International Airport will operate each gate which includes ticket modifications, passport verification, the collection of Mexican Visa's and boarding arrangements. Please be by your gate at your scheduled departing time.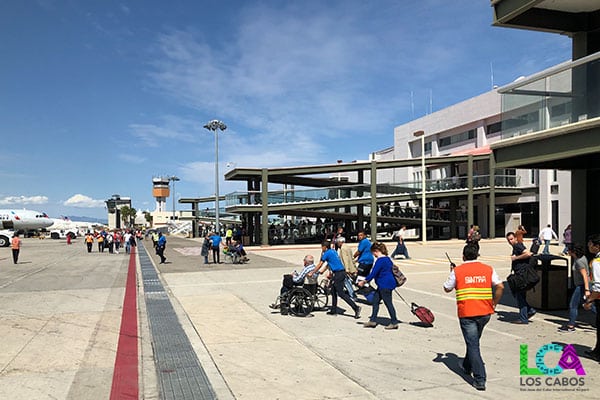 Once your flight is ready to depart you will go through a skywalk to your departing plane or, down to the tarmac. Safety staff from Los Cabos Airport will be there to guide you along the tarmac to your departing plane.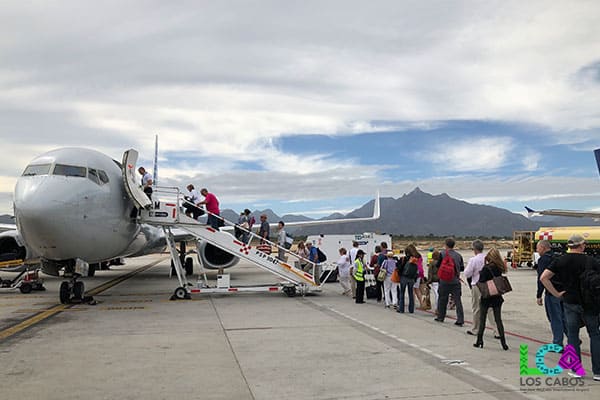 Once you arrive there will be a sky stairlift to allow you to board your departing plane. If you need assistance airport staff will be there to help you board the plane.
Note: LCA is not responsible for damages or losses derived, directly or indirectly, from the use of flight information on LosCabosAirport.com. Flight information is updated based on the operational data and the estimates provided by the airlines and third-party sources. Please check with your airline to confirm all information.