Cabo Airport Food & Shopping
Los Cabos Airport (SJD) in San Jose del Cabo is a hub of activity, not just for travelers but also for those looking to enjoy a meal or indulge in some shopping. Each terminal at the airport is equipped with a range of dining and shopping options to cater to all tastes and preferences.
Dining at Los Cabos Airport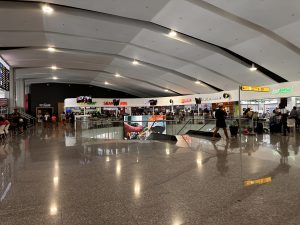 The airport offers a diverse array of restaurants across its different terminals. Whether you're in the mood for a quick snack, a hearty meal, or just a coffee, there's something for everyone. The food court areas and various lounges provide a wide selection of options, ranging from local Mexican cuisine to international flavors. For those who prefer a sit-down meal, there are several restaurants offering a more relaxed dining experience.
Most dining establishments at Los Cabos Airport accept both Mexican Pesos and US Dollars, and credit cards are widely accepted, making it convenient for international travelers. Some of the popular food and beverage outlets you might find at the airport include:
Local Mexican Eateries: Offering authentic Mexican dishes, perfect for a last taste of local flavors before you depart.
Coffee Shops: For a quick caffeine fix or a light snack.
Fast Food Outlets: Ideal for those in a hurry and looking for familiar tastes.
International Cuisine Restaurants: Serving dishes from around the world.
Shopping at Los Cabos Airport
For last-minute shopping, Los Cabos Airport has you covered. The airport features a variety of stores, from local souvenir shops to international brand boutiques. Whether you're looking for a memento to remember your trip by or a gift for someone back home, you'll find plenty of options.
The airport is also home to Duty-Free shops where you can purchase a range of products, from perfumes and cosmetics to liquor and chocolates, often at tax-free prices. Additionally, TAX Return associated businesses are available, allowing you to claim back the tax on your purchases made during your stay in Mexico.
Some of the shopping options you might find include:
Iconic Los Cabos Souvenir Shops: Offering local crafts, apparel, and other mementos that capture the essence of your trip to Los Cabos.
International Brand Boutiques: Featuring clothing, accessories, and luxury items from well-known global brands.
Duty-Free Stores: Where you can find a variety of tax-free goods, perfect for last-minute purchases or to take advantage of the savings.
Specialty Stores: Offering a range of products from local delicacies to electronics.
Los Cabos Airport provides a comprehensive and enjoyable dining and shopping experience for all travelers. With its mix of local and international options, you can savor the flavors of Mexico, pick up a unique souvenir, or indulge in some duty-free shopping before you board your flight.