Los Cabos Airport Security
---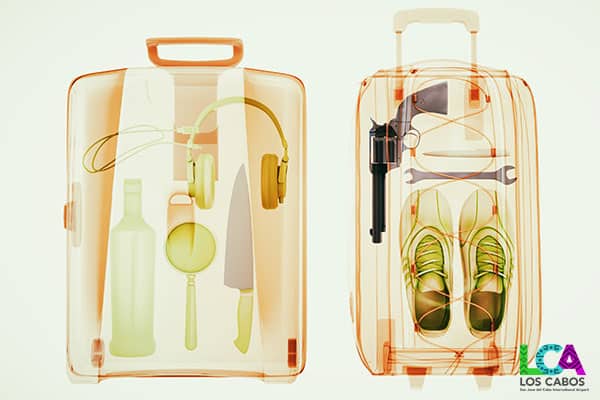 Much like many airports in the world, enhanced security is in place at all Los Cabos International Airport. National security in Mexico incorporates proven security measures, both seen and unseen, to accomplish a safe experience for all those who fly.
Learn more about accepted items for personal baggage at Los Cabos Airport here.
Passenger screening at Los Cabos International Airport is part of our security approach to get you safely to your destination. Our security screening procedures are intended to prevent prohibited items and other threats to transportation security from entering the sterile area of Cabo airport. These are developed in response to historical research to transportation security.
Pat-Down Searching
Pat-down procedures are used to help determine if any prohibited items or other threats to safe transportation are concealed on any given person. At SJD Airport you may be required to undergo a pat-down procedure if:
the screening technology sounds an alarm
unpredictable security measures
for enhanced screening
or as an alternative to other types of screening
Pat-down searching may usually include the inspection of the head, neck, arms, center mass, legs, and feet. This will likely include a thorough search of items worn on the head and, sensitive areas such as breasts, groin, and the buttocks. You may be asked to adjust articles of clothing during the pat-down. Mexican security staff are trained and will advise you of the procedure to help you anticipate any actions before you feel them.
Screening Technologies
Los Cabos Airport utilizes advanced, safe, non-x-ray imaging technology that safely screens passengers without physical contact for metallic and non-metallic threats. This also detects items that could be concealed under clothing like weapons and explosives. Passengers undergoing security screening may have an opportunity to decline AIT screening in the choice of physical, pat-down screening. Some passengers may be randomly selected to undergo AIT screening if their boarding pass indicates that they have been selected for enhanced screening prior to their arrival at the security checkpoint. This can occur at the main security terminal entrance or, upon pre-boarding your aircraft for departure.
Carry-on Baggage Screening
Los Cabos Airport security check carry-on bags for explosives and other dangerous items upon entry to departure. Here is what you can expect and tips for preparation of accepted and non-permitted items at Cabo airport:
you may be asked to remove personal electronic devices larger than a cell phone including laptops, tablet devices and gaming counsels from your carry-on bag and place them into a bin with nothing placed on or under them for X-ray screening
food or snacks such as fruit, health bars, and sandwiches can stay inside your carry-on bag
liquids, gels, and aerosols, as well as for baby food, breast milk, and medically necessary items must be int he proper containers and of proper volume
3.4 oz/100 ml of liquids, gels or aerosols can be placed in a clear plastic bag
containers larger than 3.4 oz/100 ml must be placed in checked luggage
items inside a secure, tamper-evident bag must be screened and cleared
any item that alarms or is unable to be screened will not be permitted in your carry-on bag
Checked Baggage Screening
Los Cabos airport security checks bags for explosives and other dangerous items daily. Upon check-in, your baggage will be submissive to security screening. Once completed, your airline will transport your checked baggage on your departure flight. Many checked baggage is screened without a need for a physical bag search by a security officer.
If your property is lost or damaged during the screening process, you may file a claim with Mexican security. If your property is lost or damaged during transport to the plane or in baggage claim, please contact your airline.
Security Monitoring
Mexican security has access control and video monitoring of checked baggage facilities as part of our security plan for your safety. Methods of monitoring vary and may include CCTV, manual inspection and alternative methods.