SJD Cabo Airport Terminal Passenger Pick-Up
Los Cabos Airport (SJD) is located in the city of San Jose del Cabo. The airport serves the entire Los Cabos region and has three terminals with the main being Terminal 1 for domestic and some international while Terminal 2 is strictly for international flights. You can travel to the airport from the toll road that has exits in both San Jose Downtown area and Cabo San Lucas or you can take the Transpeninsular Highway known as the scenic route. Once arriving at the airport it is important to know which terminal you need to be at for passenger pick-up and where to park as long-term curbside parking is not available.
Please note: Uber in Cabo pick-up is not available inside the Los Cabos Airport. If you are getting Uber at Cabo Airport you will need to meet them outside of the airport property.
Looking for detailed Cabo Airport Maps?
Terminal 1 Passenger Pick-Up

Arrivals in Terminal 1 are available curbside for passenger pick-up if they are ready or you will need to get parking. As you drive past departures you continue around the bend towards the end of Terminal 1. There are two separate exits – one facing the round driveway that is lined with awnings. The other is at the end where many exit including larger groups. View a full Cabo Airport Map of Terminal 1.  View Cabo Airport Terminal 1 Departures.
Terminal 2 Passenger Pick-Up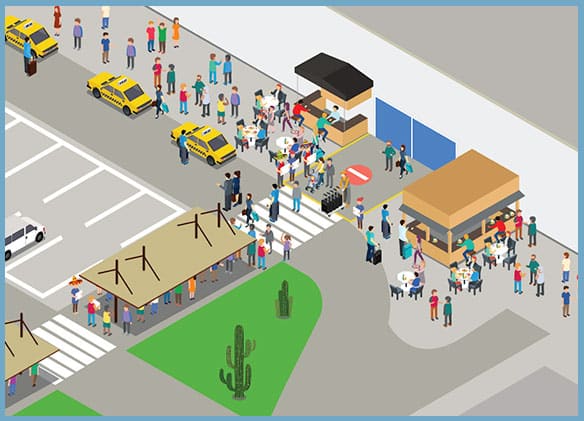 Upon entering the airport grounds you will continue on past Terminal 1, past the traffic control tower and fueling tanks to Terminal 2. There is no curbside parking so you will need to park in one of the lots available there. From the parking lot you can walk over to the first floor area outside to greet your arriving guests. View a full Cabo Airport Map of Terminal 2.