Los Cabos COVID-19 Travel Information
Masks No Longer Required
As of January 2023 you will no longer be required to wear face masks at SJD Los Cabos Airport.
New protocols have been introduced across Mexico, meaning that the use of masks will be optional in all airport terminals across the country. The new measures were announced by the Federal Civil Aviation Agency (AFAC), which is in charge of ensuring the country imposes and keeps up to date with health and safety measures imposed by the Ministry of Health.
---
Updated Shuttle Routes: La Paz shuttles are running! There is also separate shuttles with service to Todos Santos and Los Barriles operating as well. Learn More.
Face masks are no longer required to be worn by visitors to the Los Cabos Airport.
Effective June 12th, 2022 the US CDC are suspending all COVID-19 negative testing to reenter the United States. You are no longer required to get a 24-hour negative test to board your plane back to or connecting through the USA.
NO, you are not required to have a test or be vaccinated to travel to Los Cabos, Mexico.
Presenting a negative COVID-19 test result is not mandatory to enter Mexico, however, all passengers, vaccinated and non-vaccinated may be subject to health screenings including temperature checks upon arrival. Those exhibiting symptoms may be subject to additional health screening and/or quarantine. You will be required to present a negative COVID test to board a plane to the United States and Canada when leaving Los Cabos. Contact your airline for individual requirements.
[
see other Cabo Airport Frequently Asked Questions
]
---
Updated: 02/01/2022 – All air passengers 2 years or older departing Los Cabos, Mexico, (regardless of vaccination status or citizenship), with a flight departing to the United States, are required show a negative COVID-19 viral test result taken no more than 24 hours (ONE day before travel), or documentation of having recovered from COVID-19 in the past 90 days, before they board their flight. Air passengers will also be required to confirm in the form of an attestation that the information they present is true. [ US CDC Guideline Statement ]
---
The State of Baja California SUR has reached the "Green Level", being the lowest threat for COVID-19. Thank you to everyone for taking precautions to help keep everyone safe!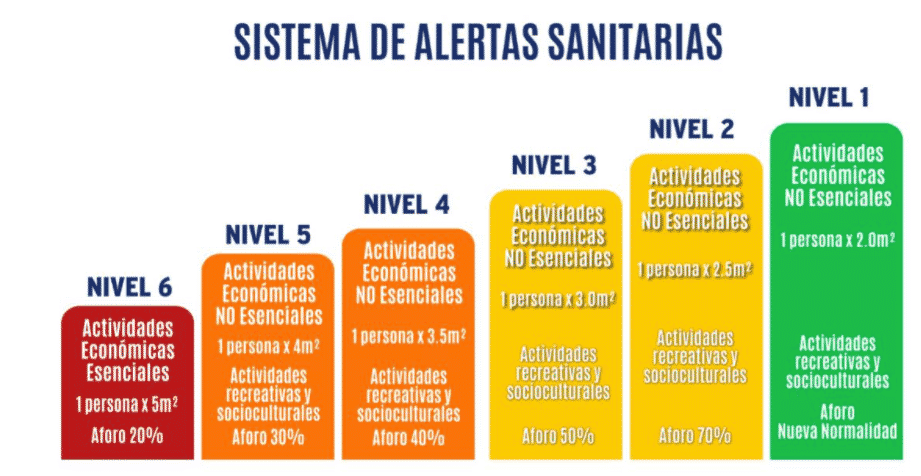 ---
What will I need to provide to return to the USA from Cabo?
You will need to provide written documentation of an official laboratory test result (paper or electronic copy) to your airline or provide documentation of having recovered from COVID-19. In addition, this disclosure form needs to be printed and shown prior to boarding along with your negative COVID-19 test result. This is a requirement.  Download the Passenger Disclosure & Attestation to the United States Form
In the event that you do test positive you will be required to leave the airport and quarantine at a safe location, at your expense.
Can the airline deny boarding a plane if a COVID-19 negative test is not presented before boarding?
Yes. Airlines must confirm the negative test result for all passengers or documentation of recovery before they board. If a passenger does not provide documentation of a negative test or recovery or chooses not to take a test, the airline must deny boarding to the passenger.
Where do you get COVID-19 testing in Los Cabos?
All hotels and timeshares in the destination are equipped with the Antigen test and medical personnel to administer the test along with the medical certificate required by the CDC. Some hotels will offer the test at a discounted price or as a courtesy to their guests. Please contact your hotel or timeshare for specific information.
What is the cost of a COVID-19 test?
The cost of the test varies and you should contact your resort, timeshare manager or property manager before you visit so you are aware. If you need a Doctor to come to your location to perform the test(s) for your group there are concierge COVID-19 testing providers.
Is there COVID19 testing at the Los Cabos Airport?
No. Most resorts and third-party providers are available. Please seek providers from list.
AMC Hospital
624-143-4911
http://www.amchospitals.com
Especialidades Hospital
624-143-7777
Hospital H+
624-104-9300
http://www.hmasloscabos.mx
Hospiten
624-104-9300
http://www.hospiten.com
Prime Lab Diagnostic
612-106-6315
http://www.primelab.com.mx
Pure Cabo – (Remote Area-House Calls to Villa, Resort – Concierge Service)
624-130-6994
https://www.purecabo.com
Saint Luke's Hospital CSL
624-143-0911
http://www.saintlukeshospitals.com
---
What if you test positive?
People should self-isolate and delay travel if symptoms develop or a pre-departure test result is positive until they have recovered from COVID-19. Airlines must refuse to board anyone who does not provide a negative test result for COVID-19 or documentation of recovery.
Do I take PCR/NAAT or Antigen test? How accurate are antigen tests for COVID-19?
Returning to the USA? You'll need this form!
PASSENGER DISCLOSURE AND ATTESTATION TO THE UNITED STATES OF AMERICA – This disclosure form needs to be printed and shown prior to boarding along with your negative COVID-19 test result. This is a requirement, per the USA, that you need to have printed per person to hand to your airline agent on departure from Los Cabos returning to the USA.  Download the Passenger Disclosure & Attestation to the United States Form
New Mandatory Departure COVID-19 Survey Departing Los Cabos
Effective 3/31/2021 AFAC has mandated the collection of data for COVID-19 questionnaire for airport entry. This simple app is available on the Apple App Store and Google Play under Veula Seguro. Fly Safe is the new mobile app and web platform of the Mexican airline industry that controls health risks at airports and airplanes. It is a way to protect yourself and your companions from CoViD-19 and other risks before, during and after flying. The app is free of charge.
Can't find the form? Download your copy of the SJD Airport COVID form here.
What are this health questions for?
Like in any other country, Mexico established a Health Questionnaire to enter the airport and board your aircraft. At the end of the four sections of the questionnaire, a personal QR Code and a green or yellow sign will be generated. If your personal QR Code is green, you can immediately access the security check at the airport. If you or any of your travel companions gets a yellow QR Code, you must go to the security filter and undergo a face-to-face examination by an authorized doctor. This doctor will define if he allows your access to the plane or not, due to risk of infection.
Why do I have to register?
Do it for you own safety. Your registration will permit us to have better control of health risks, especially COVID-19, and avoid outbreaks that can harm you and yours. The identity of the passenger is to monitor health risks at airports and to cut the chain of contagion in the event that a passenger reports being infected possibly while flying. Being registered protects you. All passengers over 18 must register. Minors may be registered by their parents or guardians on their mobile devices.
What happens with my information? Is it secure and private?
The resulting QR is valid for 3 hours after your departure. Then it will be canceled. Therefore, in any other flight within Mexican territory you must register your new flight in the Vuela Seguro Platform and complete a new Questionnaire. This new QR Code will also be valid for 3 hours after departure. TheFederal Government of Mexico is responsible for receiving, protecting and destroying your personal and sensitive information, based on the General Law on the Protection of Personal Data in the Possession of Enforced Subjects.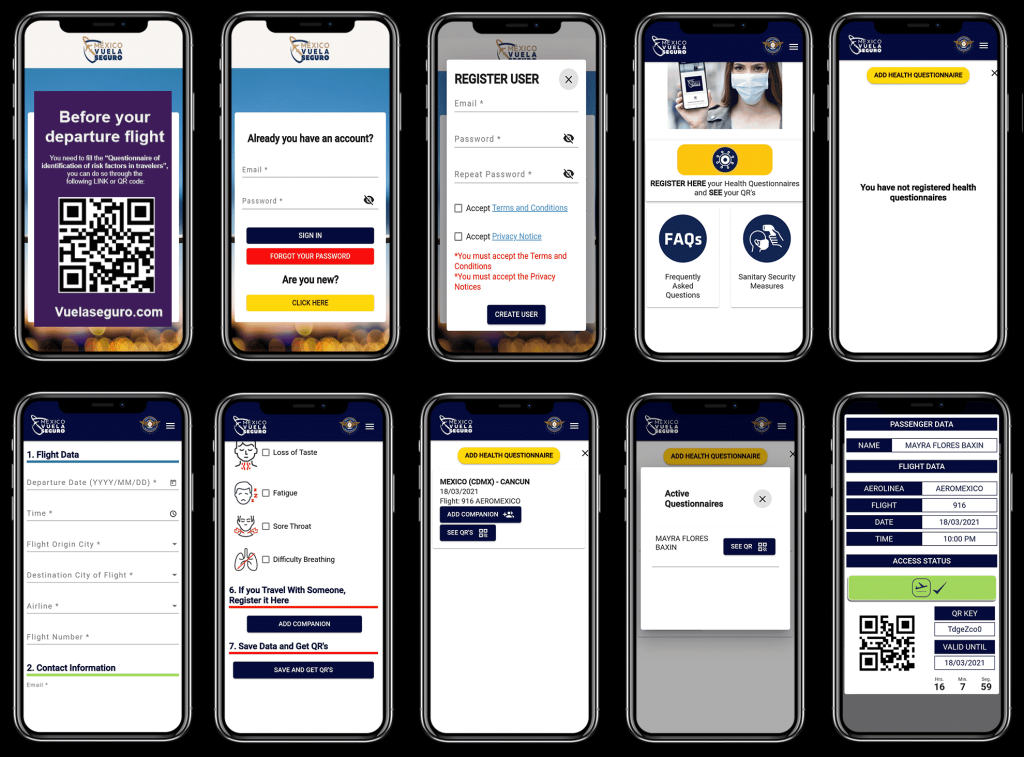 ---
COVID-19 Testing Requirements for Re-Entry to USA
On January 12th, 2021 the CDC (Centers for Disease Control) issued new requirements for US citizens whom are traveling back to the United States from Baja California S.U.R. Air passengers are required to get a viral test (a test for current infection known as PCR, NATT or Antigen) within the 3 days (72 hours) before their flight to the U.S. departs, and provide written documentation of their laboratory test result (paper or electronic copy) to the airline or provide documentation of having recovered from COVID-19. This goes into effect 01/26/2021. Airlines at the SJD Airport must confirm the negative test result for all passengers or documentation of recovery before they board. If a passenger does not provide documentation of a negative test or recovery, or chooses not to take a test, the airline must deny boarding to the passenger.
We recommend to first contact your resort or hotel to see if they are providing, or, have a partnership for low-cost COVID-19 testing. Many are making tests available and also offer quarantine accommodations. For others, testing is available at local hospitals, clinics and other COVID PCR testing services in the region.
COVID-19 Testing Requirement for Re-Entry in Canada
Starting January 7, 2021, air travelers 5 years of age or older will be required to present a negative COVID-19 test result to the airline prior to boarding international flights bound for Canada from Cabo San Lucas, Mexico. Testing is available at local hospitals and other Covid testing concierge in the region.
COVID-19 Requirements For Entry To Los Cabos, Mexico
NOTE: For clarification, as of January 13th, 2021, a COVID-19 test is NOT required for entry to Los Cabos. You will be given a health questionnaire to complete on arrival and departure. Do you need a COVID test to reenter your home country? We do not know this, it is best to question your airline and home country health administration for their requirements for reentry.
NOTE: A face covering is likely required while flying on an airline, except for young children or anyone with a condition that prevents them from wearing one. You also may be required by local law to wear a face mask in the airport where your trip begins, where it ends or where you connect. [ red more about COVID travel restrictions in Cabo here ]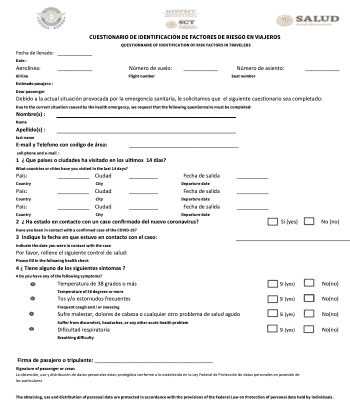 NOTICE:  There is NOT a requirement for a COVID-19 test to enter Mexico via airline. There is not a quarantine period in which you have to endure when you arrive in Los Cabos. Upon departure from Los Cabos to your host country YOU will need to determine requirements for re-entry.
As per the local state health department recommendations SJD Airport will be providing and asking a questionnaire for all arriving guests about recent travel and exposure for safety. A copy of the form we are displaying is available for your view and are subject to on arrival at Los Cabos Airport.
#1 – General information, name, phone and email
#2 – Countries visited in the previous 14 days
#3 – Confirmation of contact with others with confirmed COVID-19
#4 – Dates of contact
#5 – Health screening, temperature, respiratory, headaches and health problems
#6 – Administrator confirmation
September 14th 2020 US Travel Restrictions Update
The U.S. State Department lowered travel warnings for Mexico last week from Level 4 "Do Not Travel" to Level 3 "Reconsider Travel." With warning stating that most of the country is safe among Cabo San Lucas and surrounding region of Los Cabos. Border crossing by land and water borders is still for cargo and essential travel for Canada and the USA. Flying to and from Mexico is allowed without restrictions.
September COVID-19 Cases Drop
Of the 8,426 people with confirmed infections, 7.173 have recovered and a death rate of 5.2% that is less than half the national rate. 80% from co-morbidities. To date (9/13/2020) Los Cabos Tourism Department has reported that no tourists have reported been infected as the July 2020 reopening.
SJD Airport receives Airport Health Accreditation Award
Airports Council International (ACI) World and ACI Latin America and Caribbean have announced today that Los Cabos International Airport is the second in the world and the first in Latin American and Caribbean to be accredited in the ACI Airport Health Accreditation (AHA) program. [ news release ]
SJD Airport Welcomes Passengers from Canada in October
WestJet has confirmed weekly flights from Calgary to Los Cabos starting Oct. 10, 2020, and the Mexico destination says it's "very excited" to have its Canadian friends coming back to Los Cabos for the winter season.
Los Cabos has consolidated its health and safety efforts with protocols that include strict and consistent health and safety protocols that have been implemented across the destination from the airport to hotels, restaurants, transportation companies, and other service providers, "making Los Cabos one of the safest destinations in the world."
YES – Cabo is Open!
As of July 10th, 2020, Cabo Airport is open and operational. Many Los Cabos area resorts are reopening or have opened with safety measures in place, verified by and monitored by the health department.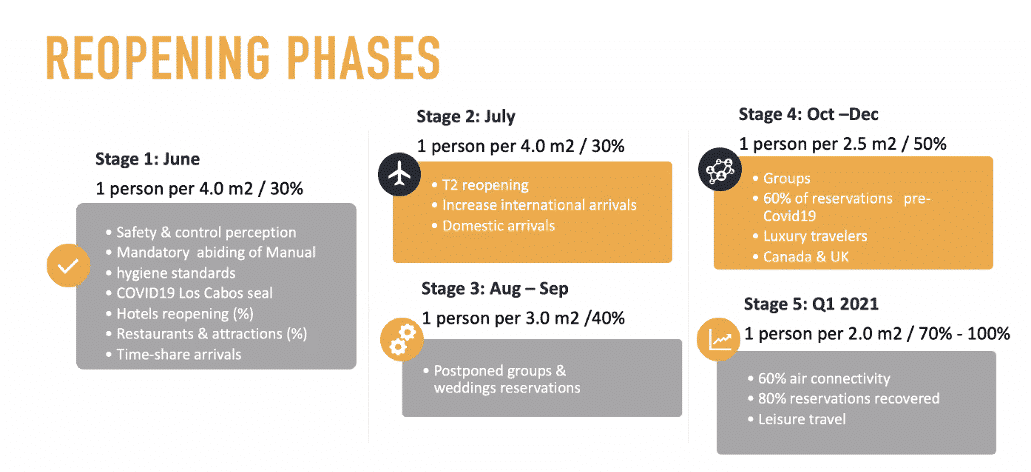 July 23, 2020:  the State Committee on Health Safety authorized all nautical activities to be reopened for smaller boats starting this Thursday, July 23. The information was notified by the Captain of Cabo San Lucas, José del Carmen Basurto Beltrán, through an official statement. This statement explains that the State Committee on Health Safety, determined in the last session on July 21, that, from the 23 of the same month, all nautical activities were included, at level 5, (critical), color orange, with a capacity of 30%.
Said reactivation of activities must be carried out in strict compliance with the sanitary protocol for the economic reactivation of nautical activities, for smaller vessels, issued by the State Commission for the Protection against Sanitary Risks (COEPRIS).
Will my flight arrive to Cabo San Lucas?
If you are wondering IF your flight will arrive or depart from SJD Airport in the near future, please contact your airline. We have current and future Cabo Airport Arrivals and Departures on our website. SJD Airport serves as a port that accepts and manages airline flights however, SJD does not dictate their individual schedules.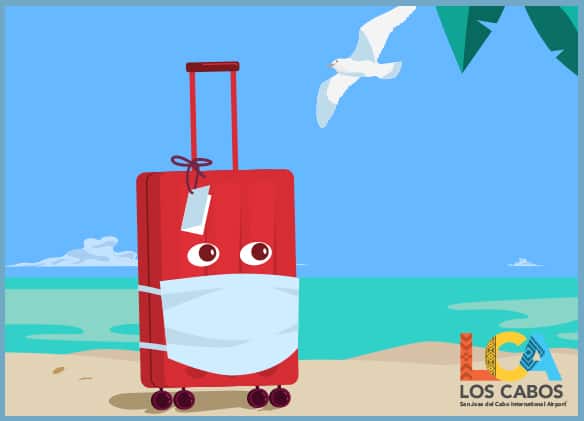 As a port SJD Airport provides space for domestic and international passengers to be processed by Mexican Customs and Immigration and does not control their operations.
The implementation of enhanced procedures at the SJD International Airport, such as thermal cameras and travel background checks on all arriving passengers, that will be done in coordination with other state airports, ports and land entry points.
The Cape, a Thompson Hotel is open and accepting reservations.
OMNIA Los Cabos is temporarily closed until further notice.
Grand Mayan at Vidanta Los Cabos is currently open and accepting reservations.
Flora Farms is open and accepting reservations.
Acre is open and accepting restaurant and treehouse reservations.
Nobu Hotel Los Cabos is open and accepting reservations.
Viceroy Los Cabos has temporarily closed until further notice.
Waldorf Astoria Los Cabos Pedregal is open and accepting reservations.
Hotel El Ganzo is open and accepting reservations.
Zadun, a Ritz-Carlton Reserve is open and accepting reservations.
Secrets Puerto Los Cabos, Dreams Los Cabos and Breathless Cabo San Lucas is open and accepting reservations.
One&Only Palmilla is open and accepting reservations.
Pueblo Bonito Resorts and Quivira Golf Club is open and accepting reservations.
Montage Los Cabos is open and accepting reservations.
JW Marriott Los Cabos is open as of June 22nd and accepting reservations.
Hard Rock Hotel Los Cabos is open and accepting reservations.
ME Cabo is open and accepting reservations.
Paradisus Los Cabos is temporarily closed with a reopening date yet to be determined.
Las Ventanas al Paraiso is open on July 1.
In a move to keep the region and incoming tourists safe the group decided together to keep Los Cabos resorts and beaches on lockdown until June 16th, 2020. A reconsideration of this decision could come sooner.
NOTE: *Future flights: it is strongly recommended to contact your airline directly. Please check current Cabo Airport Arrivals and Cabo Airport Departures
At this time Los Cabos Airport is accepting limited flights at Terminal 1.  The international terminal, Terminal 2, is expected to reopen in mid-June as more flights from the USA, Canada and Europe increase. Los Cabos Airport has the expected on-site protective measures in place to receive flights currently in operation from Los Angeles, Phoenix, Dallas and, national flights from Guadalajara, Monterrey and Mexico City. Safety precautions include social distancing markets, plexiglass shields at counters, mandatory face masks, sanitizers and other efforts.
Customers arriving will be expected to have a temperature check and answer Coronavirus exposure questions.
May 14th Cabo Coronavirus Update
There is an announced phased reopening for tourists to return to Los Cabos. A a new program "Clean Point" certification will be taking place state-wide. Certification will be implemented at hotels and resorts, restaurants, markets and tour providers as well as in the Los Cabos Airport.
The Clean Point certification includes checking the temperatures, thermal imaging and filling out rick factor questionnaires upon arrival at SJD International Airport.
There is a phased reopening plan that includes 5 steps with a common goal of all of Cabo to be open by the start of 2021. Starting June 1, 2020, limited travel while implementing new health and safety protocols will lead to phase 2 with the reopening of a full-servicing Los Cabos Airport. The following resort and hotels have released this schedule (can be changed at any time, please consult with your destination).
Remaining Reopening Schedule in Los Cabos
October – Grand Solmar, Rancho San Lucas, Hyatt Place
November – RIU Palace
The Los Cabos Tourism Board is looking to promote luxury travel to visitors from Canada and the United Kingdom starting in October. In the first quarter of 2021 they hope to enter phase 5 and restore 80% of travel and 60% of resort bookings.
Southwest Airlines announced it would start bringing back several international routes flying from Houston and Denver to Los Cabos starting in June this year.
To learn if your airline or airport is flying to Cabo San Lucas please contact them directly. To learn about daily arriving and departing flights please check our live traffic monitor.
Reference site information: Travel & Leisure
3/20/20 – Coronavirus COVID-19 Mexico Travel Alert
On March 20th, 2020 the Presidents of Mexico and the United States of America agreed to restrict travel to and from Mexico limiting to only essential needs. This is the official COVID-19 Mexico Travel Alert.
Mexican Press on COVID-19 Travel
US State Department on COVID-19 Travel in Mexico
The Los Cabos Airport is taking these restrictions seriously and making efforts with all airlines and associated service providers. These included increased security measures for safety of all travelers, airport staff and vendors.
Real-time updates at https://coronavirus.bcs.gob.mx/
The health and safety of visitors is our top priority and special protocols to contain the virus have been implemented. Some of the actions taken in Los Cabos to avoid the spread include:
A sanitary protocol has been established in the Cabo Airport – San Jose del Cabo International Airport checking temperatures to all arriving passengers
A multidisciplinary committee where private and public organizations receive constant feedback about the source and spread of COVID-19
Hospitals and Hotels have special training on the implementation of clinical guidelines issued by the Federal Government to limit the risk of infecting others
More frequent cleaning of public areas
Daily communication among the associations in the destination about measures, best practices, protocols or assessment measures as needed
The Ministry of Health of BCS has already implemented protocol with the hotel and timeshare association as well as with the business chamber of commerce and DMCs to assess and immediately inform about any potential risks or cases
Mexico confirmed 164 positive cases of COVID-19 within its borders as of March 19.  Authorities continue to investigate additional suspected cases.  The Mexican Ministry of Health (Spanish) publishes daily updates on the number of cases
Entry and Exit Requirements during the COVID-19 Mexico Travel Alert – Is Los Cabos Airport Open?
Mexico has implemented temperature-screening measures at some of its airports. Passengers with abnormal temperatures and travel to high-risk areas might be subject to additional health screening.
Beyond standard travel documentation, travelers to Mexico do not require any additional documentation to enter or exit.
Schools, Business, 

Transportation, 

and Government Closures during the COVID-19 Mexico Travel Alert
The Mexican Ministry of Education has closed all schools from March 20 until April 20.
Between March 23 and April 19, the Mexican government has declared a social-distancing campaign consisting of four pillars.
Take basic preventative measures: wash your hands, avoid handshakes and kisses, and stay home if you are sick.
Suspend non-essential public-sector, private-sector, and social activities. Employees who can telework should do so.  Public transit will remain operational.
Organizers of large events with more than 5,000 attendees will reschedule or postpone them.
Protect the elderly and vulnerable.
Cruise Ship Passengers during COVID-19 in Mexico – When will Cabo open?
U.S. citizens, particularly travelers with underlying health conditions, should not travel by cruise ship at this time.  CDC notes increased risk of infection of COVID-19 in a cruise ship environment. In order to curb the spread of COVID-19, many countries have implemented strict screening procedures that have denied port entry rights to ships and prevented passengers from disembarking.  In some cases, local authorities have permitted disembarkation but subjected passengers to local quarantine procedures.  While the U.S. government has evacuated some cruise ship passengers in recent weeks, repatriation flights should not be relied upon as an option for U.S. citizens under the potential risk of quarantine by local authorities. Cruise travelers should stay home for 14 days after returning from travel, monitor their health, and practice social distancing.
This is a fluid situation.  CDC notes that older adults and travelers with underlying health issues should avoid situations that put them at increased risk for more severe disease.  This entails avoiding crowded places, avoiding non-essential travel such as long plane trips, and especially avoiding embarking on cruise ships.  Passengers with plans to travel by cruise ship should contact their cruise line companies directly for further information and continue to monitor the Travel.state.gov website and see the latest information from the CDC.
Quarantine 

and Healthcare 

Information for the COVID-19 Mexico Travel Alert
There are no mandatory quarantine policies currently in effect in Mexico for confirmed or suspected cases. The Mexican government encourages people experiencing the symptoms of COVID-19, fever, cough, headaches, throat pain, or constant sneezing, to stay at home for 14 days, consult with, and comply with the instructions of your local healthcare provider.
The Mexican government recommends individuals not self-present to seek testing for COVID-19. Those with severe symptoms should seek medical attention and medical professionals will test, if needed based on travel history, contact with a known case, and the individual's risk group.  Medical professionals will prescribe actions as necessary; including medication to manage symptoms as no specific therapeutics or vaccine exist for COVID-19.
Travelers who return from a country with local transmission of COVID-19 and develop symptoms of respiratory illness should seek immediate medical attention and share their travel history.
The same applies to individuals who were in contact with a confirmed case of COVID-19 and present symptoms of respiratory illness.
Local Resources in Cabo for the COVID-19 Mexico Travel Alert
Health advice for travelers seeking information is available at ports of entry.
Call the Mexican Ministry of Health's COVID-19 hotline at 800 0044 800 for information or medical attention. English language operators are sometimes, but not always, available.
Assistance with Travel in Mexico during the COVID-19 Mexico Travel Alert